Must Have Spring "Slow Fashion" Scarf
Hello Spring!
It's officially a new season (regardless of the weather in your neck of the woods) which means it's time to at least look the part!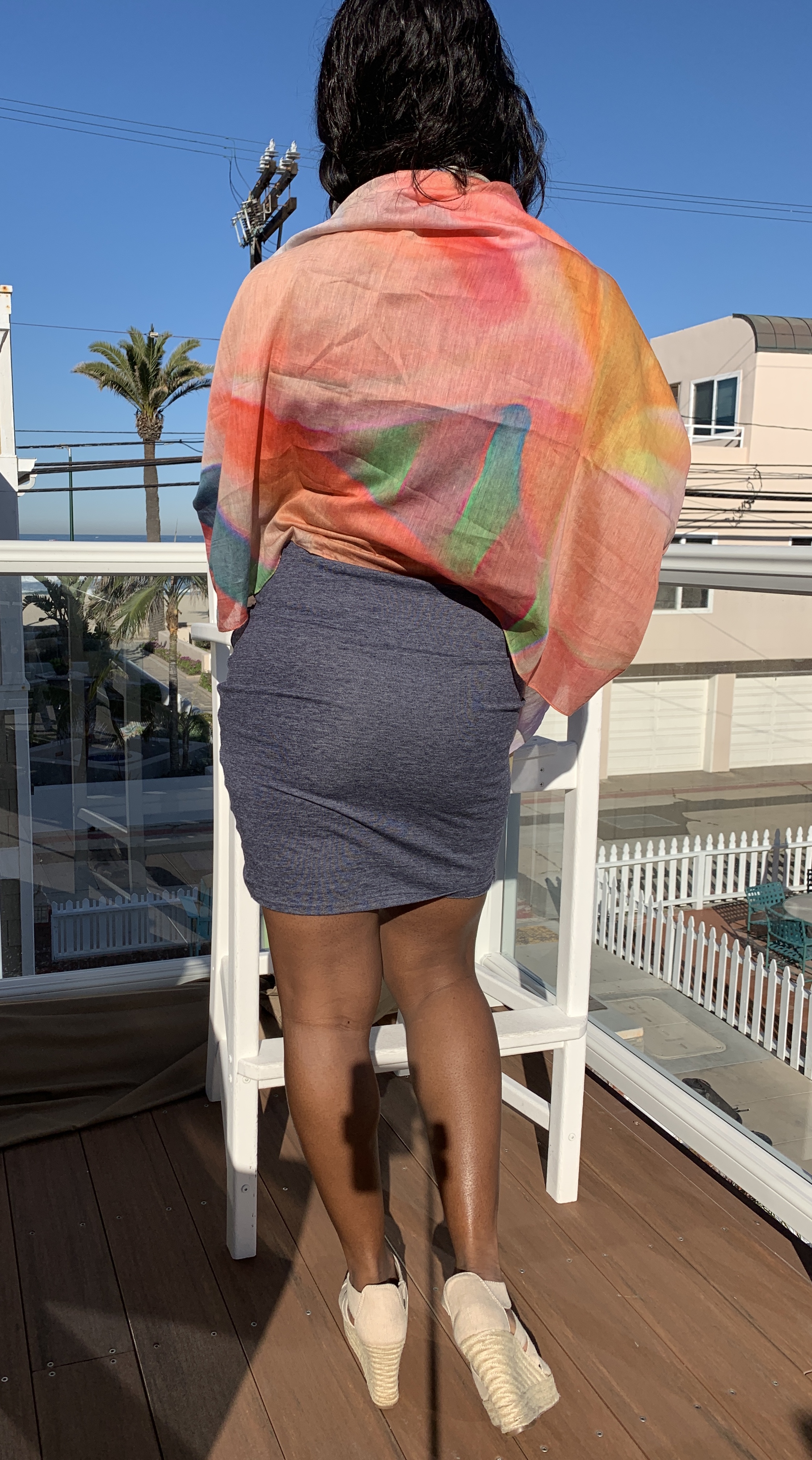 There is something about a scarf that just says Spring!
When I found this design, I had to have it. But as I learned more about the Designer & the product, I was all in!
There is something about a scarf that just Says SprinG!
With my birthday & 3 more trips on the horizon, I wanted something that was versatile, feminine, & elegant.
When I found this design, like a tropical sunset, I had to have it. But as I learned more about the Designer & the Product, I was all in!
Created by Josette C Kratz Designs, the scarf is Part of the Slow Fashion movement
What the heck is slow fashion?
Slow fashion is the alternative to fast fashion & part of what has been called the "slow movement", advocates for principles…such as good quality, clean environment, & fairness for both consumers & producers. -Wikipedia
I've literally been in 3 conversations lately about how disposable our fashion is, & how nice it would b to get back to a place where we bought quality, sustainable fashion items & kept them for a long time. Little did I now I would stumble into it.
The scarf itself is so soft & refreshingly lightweight! It's made from 75% Eco-Friendly Cotton & 25% Premium Silk. And it's big too — it's a little bigger than 6'x3' — perfect for wrapping it around, wearing it as a vest, sash, belt, sarong, or swimsuit cover up to name a few.
Want to see the entire collection?
"Plumeria" by Josette C. Kratz Designs - Scroll down for a RoxRewards discount!
Did you know that 75% of new fashion being made is made from plastics? Yes, we are wearing plastic. The problem with this in a nutshell, is it isn't sustainable. So in addition to creating beautiful scarves, Josette C. Kratz Designs is out to achieve a more responsible seasonal collection.
What does that mean for us?
It means that even the way it is shipped is thought out. So that it is a kind as possible to the environment.

It means no-instant gratification, but instead healthy anticipation. ;-) Rather than mass producing the scarves. The scarves are preordered & produced in exact quantities…aka no waste.

The scarves are made in India (experts when it comes to scarf making) by a company that is part of the Business Social Compliance Initiative that helps provide education, clothes, shoes, water, toys, home, food & love to children in need giving away. 5% of every purchase goes to children in need.
If that doesn't make you feel good, I don't know what will. But just in case, here is one more thing…
ROXREWARDS Alert
You know me, I love to share the love. If a scarf is what you need for yourself and/or as a gift, start Spring off right with this discount code! Enjoy 20% off your entire order now through March 30.
Use this code at check out! ROXTALKS20
Enjoy and happy Spring!!!