How I got "My Best Body Ever" in time for a Dream Beach Vacation
I've had a lot of people ask me lately how I got my body ready for Cancun. (In fact as I am typing this, another friend asked.) I'm ready to dish it all.
From April 4, 2017 to April 22, 2018, I lost 20lbs & Along the way, my body transformed and toned beyond what I imagined it could do. So here's how it happened...
But realize it wasn't an overnight process. In fact it was a journey.
Step 1: I got out of my comfort zone
First thing first, I joined a gym. A gym is something that I promise you is NOT in my workout vocabulary, except to say, "I don't do gyms." Boutique fitness was my jam.
My definition of a gym: An intimidating place where everyone knows how to use the weight machines but YOU, Roxanne. AKA, You are not welcome.
I taught Jazzercise for 15 years! After retiring from teaching, I tried a litany of boutique options: Yoga, Cycling, Cycling+Yoga, Pilates and Barre, just to name a few.
They all had their benefits, but none of them got me out of my weight slump and feeling and looking my best.
I was 157.6lbs at my heaviest
That weigh in was just 7 days after I decided to do something I was always afraid to do and join a gym...
Here's what tipped the scale. ;-) I actually found my gym, Equinox, by complete accident. Scott had been talking about getting his workout regimen going. To support him, I recommend that we tour some gyms in Orange County. While Scott was familiar with Equinox, I'd personally never heard of it, but I set up a tour so we could check it out. Sarah, our membership rep was gracious, super sweet and showed us the ins and outs. I was in absolute awe! What struck me first was how clean it was (I'd been encountering some dirty yoga studies as of late. There's nothing like turning your head while in savasana and seeing a hair ball. Ick!)
Equinox's yoga and dance studios were beautiful. The locker room that included a steam room, sauna & jacuzzi were next level. And the amount of classes was exciting. I'll admit to that the rooftop gym and track, restaurant with the white baby grand piano, food court and bar didn't suck either. ;-)
As I considered what I was paying just for yoga, compared to the entire experience at Equinox...and as I looked in the mirror to see where my efforts as of late had gotten me, I decided to get out of my comfort zone and try this gym thing out. Gaining weight happens overnight. You don't even realize you've gained it until you have 10lbs comfortably packed on. But losing weight? That requires focus, determination and awareness. I was woke...it was time to invest the time and resources to this.
Step 2: GET INTO THE GROVE
I started by trying out the classes! Rowing, Spin, Barre, Yoga, HIIT, and yes, all of the Dance classes. I committed to going to the gym 6 times a week with a minimum of 4. Sidebar: People at Equinox (clients and staff) are officially the friendliest people in Orange County. No joke. They totally took away the intimidation factor of the "gym."
But those machines...you know the weight ones...they still looked at me every time I walked up the stairs to the dance studio. Those big, scary, intimidating machines taunted me daily.
Scott has always been a big believer of getting a Personal Trainer. I personally had never had one and wasn't really sure they were worth the investment. I mean after all, I was a fitness professional with 15 years under my belt. LOL. I'm rolling my eyes at my vibrato.
While that may be true, I was also a woman who was 20lbs overweight as a result of doing her own thing and knocking on 40's door. So I decided to at the very least take the two complimentary sessions and see what this personal training thing was all about.
I was paired up with Shosanna (@ShoshannaFitness). As I was telling her a little bit about myself, we quickly learned that we had something in common -- Group fitness. She was basically Billy Blanks' right hand woman teaching Taebo for years. You may even have a Taebo vhs/dvd with Shoshanna. I appreciated the commonality and went into the sessions with an open mind. I wanted to know what she could do for me and where she believed my body could go.
That is when I experienced the InBody machine test - that weigh your, tells you your water weight, bmi, target goal and much much more. It was also the first time anyone had ever taken measurements and pictures of me for fitness purposes. The InBody results told me I was 25lbs overweight. Lovely.
The sessions with Shoshanna were great. I knew that if I was ever going to conquer the machines, a personal trainer was the way to go. I was also intrigued to see what this training thing was all about. Would it work for me? Was it worth the money? Etc. Etc.
I committed to figuring out the budget, that included regular training in the future. In the meantime, I took the classes. And no surprise here, the dance classes have been my jam ever since
STEP 3: set a PERSONAL GOAL AND GIVE IT A DEADLINE
Four months later, I started with Shosanna officially. My weight was down about 10lbs, but my progress had slowed down and it was a bit frustrating...
I needed a breakthrough.
I told Shoshanna from day one about my goal! I had an opportunity to earn an incentive trip from Rodan+Fields to Cancun by the end of 2017. The trip itself would be in April.
My goal? To earn the trip to cancun and have the #BestBodyEver on the trip...April 22nd.
I'd like to say I was the world's best client, BUT, I wasn't.
Shosanna gave me a schedule to follow that included fasted-cardio on days I wasn't training or dancing, as well as healthy eating tips, and the task of tracking my calories.
Well see, what happened was...bwah! Excuses break:
First of all, I got busy, which meant I went down to dance 1-2 times a week, instead of 6 times weekly.
Fasted cardio didn't really happen because I HATE to run, bike or anything stationary.
I didn't track my calories...I've had My Fitness Pal since it started, and while it's good (save the security breach), my heart has NOT been into tracking those calories lately.
And looking back, I wasn't really eating healthy. I drink alcohol, eat carbs and dairy...Doritos. Need I say more?
Thank goodness Shoshanna didn't dump me...Instead she encouraged me. In spite of myself, I made progress. I lost weight, and my clothes were starting to get baggy.
In December I earned my trip to Cancun & I finally got under 140! Whoo hoo. That felt soooo good.
Step 4: THE TURNING POINT
This bikini became my focal point. My battle cry (sometimes I did yell at and even curse the blue bikini).
PS: In hindsight, I should have paid more attention and just bought the right size. LOL! Oh well...
While I was happy with how far I'd come, those final pounds, and my ponza (as Scott calls it) was totally stubborn. Time was ticking, and if #bestbodyever is the plan, then I needed to get going.
In March, Scott took me to what has become my favorite swimwear store, Merrilee's. He got me a beautiful blue bathing suit. While it really think it fit at the store, when I got home I realized that if it was coming to Cancun, there was some work to be done. In mid/late March my weigh in was 140.4. grrrrr.
Step 5: THE CHALLENGE
Shosanna kept encouraging me. And at the end of March she challenged me to do a 21-day program leading up to Cancun...and REALLY do it. Like follow the rules.
It meant 5-6 days of cardio a week. 80oz of water. Buying a food scale, meal prep containers and yes, doing the meal prep thing twice a week. It also meant putting on that dang blue bathing suit every week at the same time -- AND taking pictures.
I followed that thing to a tee.Okay, there were a few cheat moments, but I was honest about them.
I learned a lot about my relationship with food among other things. Here are some of my take aways:
There were days when I was straight up HANGRY! Poor Scott!
I like to snack between meals. Now I try to drink more water in lieu of snacks.
When I am focused I can accomplish anything.
I started craving oatmeal...I think it was the carbs talking.
Step 6: The results?
I did it! I got there. My body shredded. And I was able to feel confident about my body on the trip. It doesn't matter who you are, wearing a bikini is work. It felt freeing to know that the work...worked! :-)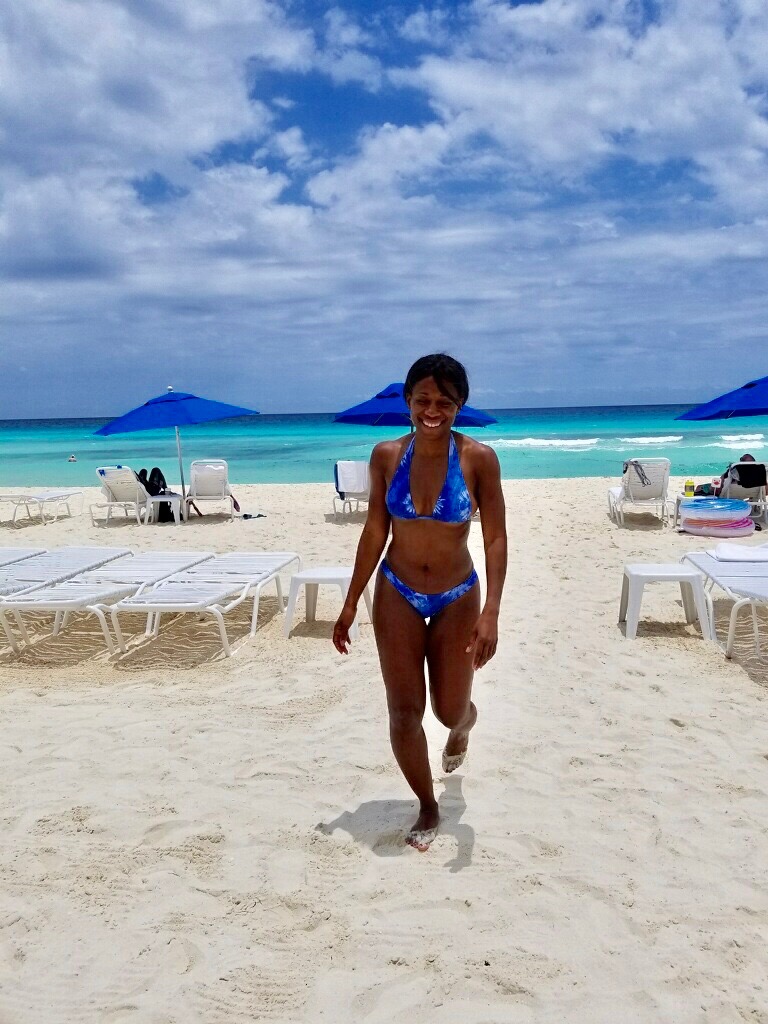 The scale got down as low as 133 whoop whoop! But the feels are what matters and I felt amazing!
UPDATE: 3 Months later I'm still at 133lbs!
WANT MORE DETAILS? I've created a video series breaking down how i got my #BESTBODYEVER from start to finish
Questions? Thoughts? Suggestions? Please comment below, I will happily reply! And if you know someone who may benefits from this...perhaps searching for their #BestBodyEver...share this blog with them.